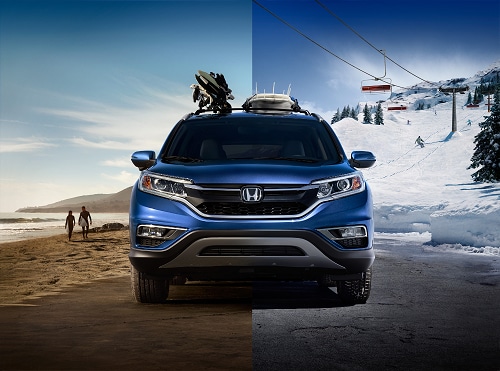 Get the Inside Scoop on Honda's Available All-Wheel Drive System
When it comes to shopping for a new car, you've got quite a lot to consider. From choosing the perfect vehicle for satisfying your needs, to deciding on which features you just can't live without, there's a lot that goes in to choosing a new car. Perhaps, the most important decision you can make though is deciding whether or not to purchase a vehicle outfitted with all-wheel drive. With this in mind, our team is here to share with you the many benefits of choosing a Honda equipped with the automaker's Real Time All-Wheel Drive system.
Honda's Real Time All-Wheel Drive System Explained
When it comes to shopping for a vehicle that offers the ultimate in traction and handling, most of our customers understand that choosing a vehicle equipped with all-wheel drive is the way to go. Though, what exactly is all-wheel drive and how does it work? Well, when it comes to Honda, it's Real Time All-Wheel Drive system is a multi-faceted system that provides its driver with a quicker distribution of power and both improved acceleration and driver control.
Designed to operate in real time, Honda's all-wheel drive system monitors road conditions so that it can remain proactive throughout your time behind the wheel. By sending torque to the rear wheels of your vehicle, this intuitive system is able to improve vehicle stability by counterbalancing slick road surfaces and terrains. Meaning, whether you're taking on snow covered roads or rocky terrain, you can rely on Honda's Real Time All-Wheel Drive system to keep you and your passengers safe.
Explore Honda's All-Wheel Drive Model Lineup
Honda HR-V: Boasting a roomy interior, along with a wealth of standard and available features, the Honda HR-V makes for a very well-rounded choice when shopping the crossover segment. Of course, further equipped with all-wheel drive, this year's HR-V is perfect for taking on just about anything.
Honda CR-V: Recognized as a compact crossover, the Honda CR-V has become a favorite among our Lincoln area customers. Naturally, when outfitted with all-wheel drive, this versatile model becomes an even more compelling choice.
Honda Pilot: If you're on the hunt for a family-friendly SUV that boasts plenty of space and features alike, look no further than the Honda Pilot. Available with all-wheel drive, this model makes for the ideal choice for growing families in Lincoln.
Honda Ridgeline: For many of our customers, there's nothing more satisfying than taking the wheel of a capable new truck. Fortunately, when you opt for a Honda Ridgeline featuring all-wheel drive, you'll be the proud owner of a pickup that's always up for a challenge.